It seems like 2012 can be Airush's year! Airush has released many new products for year 2012 and they seem to be a success so far according to reviews and videos that are floating around on the web. So what's new for 2012? Well, there is a lot, to much for me to cover everything in this post. However, Airush has products that are something extra, the smartbar III, Varial X and the Protoy board. Let´s take a look at them!
Smartbar III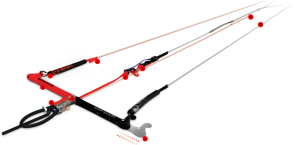 The 2012 Smartbar is a highly tunable bar with some of the smartest features on the market today. A clean, yet very functional bar. Airush has integrated the Brain Quick Release with an extentable bar and other improved features, such as:
Float Integration (to prevent the bar from sinking if you drop it into the water)
EVA Grip
2012 Brain Quick Release
Union Rivet
OS Handles
Extendable Length Bar
Active Removable Stopper Ball
Depower Strap
E-Z 4-5 Line Conversion
Multiple Length Options (3 meter extension lines comes with the bar)
Varial X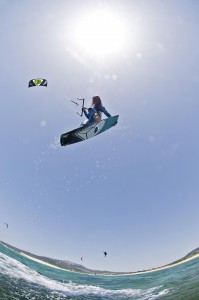 Mark Pattison, the designer of Varial X says that the goal with this kite was to take the depower, relaunching and forward speed from the previous Varial, and combine this with the unhooked performance, direct steering and highend of Vapor X. The result was the Varial X, a concept that is called SL-C i.e. a hybrid between a SLE kite and a C-kite. A kite for those who are looking for the unhooked, boosting and direct steering that comes with a C-kite, yet with a clean 4 line setup.
The Varial X sits further forward in the wind window than the Vapor X and it also flies faster through the wind window. When you sheet in the bar to the bottom the kite with surge forward to the edge of the wind window. This is something that gives you a great vertical height when jumping. The Varial X needs airspeed to develop power, so you can't really park it and expect that the kite will act as a truck. The kite is constantly seeking its way forward to the edge of the wind window which might punish those who prefer to just park and ride, but in turn reward those with good flying techniques.
Protoy Board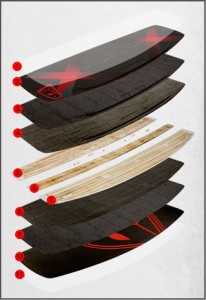 Airush combines super slick design with the latest patented ACTIVE.
The Protoy board is as flexible as a PU (PolyUrethane) board, but made in high modulus carbon fibre, which gives the board much more reflex and at the same time makes it stronger.
The ACTIVE technology doesn't prevent the board from flexing, but it prevent the board from breaking under extreme loads, for instance if you land hard after a jump.
Airush claims that this board is 20% lighter than a standard sandwich construction.
The image to the left shows an exploded view of the Protoy board.
Diamond grooved EVA ultragrip traction
Lightweight spray finished, sanded back.
40 GM protective layer
101 GM T700 Carbon biaxial lightweight carbon outer skin.
High strength, optimum flexibility and lightening fast response.
Heavy duty double glass reinforcement in heel area.
Corecell san foam high density layer for strength and reduced weight over wood.
40 GM lightweight base layer for sandwich.
Patented active stringer.
High density foam reinfocement in fin areas.
Corecell san foam high density layer for bottom deck.
The protoy board also comes with a surfinz adjustable box system and a carbon reinforced hexcore fin set.
I know, lot's of techniqual stuff here… Perhaps just easier to watch this movie and form your own opinion :)