Are you thinking of travelling to Brasil this year to kiteboard? Do you want an adventure and endless wind? Then here is the kite trip you don't want to miss.
Kiteboarders travelling to Brasils' North East coast of Ceara can now go where few have kited before, on a Private kiteboard trip that explores beyond the "regular tourist" spots. Previously, most have stayed pretty close to Fortaleza because of its' international airport, but, over the last 5 years Brasil has grown and improved in many areas. The most important improvements have been to the roads, safety, transportation and hospitality industry which has opened up the North to fantastic kite adventure trips.
Kiters looking for a trip to remember are now leaving the known spots in search of more wind and incredible kiting spots just a few hours further. As a result more and more people are booking kite trips that showcase various spots with a wide variety of conditions and sights. The trip locations will highlight sliding down giant sand dunes to jumping over small sand bars, from kiting big waves to flying across flat water. The trip organizers at Windy Addiction will help you to avoid the common tourist trap mistakes and navigate quickly from city to kite town to the beach with ease maximizing your fun and time on the water.
The best kite trip now available in Brasil is with Windy Addiction. Their office, kiteschool and Pousada (bed and breakfast), is centrally located in Ilha do Guajiru, approximately 2 hours North of Fortaleza. This spot is fantastic for beginners are pro-kiters since it has a wide shallow flat water river lagoon, each kite trip will start and finish here. Your trip includes; breakfast, accommodations, transport, a one hour free kite clinic
to all group members and of course more wind than you've ever seen! The trip is divided to take you to some famous spots as well as some hidden treasures and secret spots that only the locals and your guide know about.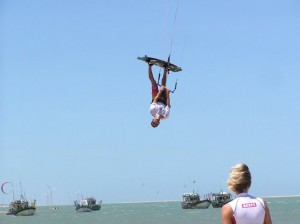 Your personal guide, and kite instructor, will speak Portuguese and English and organize 7-10 day trips specific for your groups kiting abilities. Imagine…waking up along the beach with the wind already blowing, kiting some epic flat water and then doing a downwinder into waves! At the end of the day you will be welcomed back by
friends, treated like family and share great stories while enjoying some world reknown Brasilian Caiparinhas.
The trips do need to be booked in advance and have a minimum booking requirement of 3 persons. For more details and pricing please see "7-10 Day Kite Adventure trip" there you may see an example trip itinerary.
For any other questions or help regarding kiteboarding accommodations, lessons or trips in Brasil, please contact David at kiteboarding@windyaddiction.com.
Related External Links