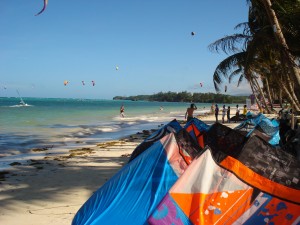 Yesterday was a pretty good day wind terms. I had a nice kite session in the afternoon until I managed to brake the control bar in two pieces, not good… luckily some friendly philippine guys helped me to sort out the mess with the lines and they will also replace the broken bar with another one =)
Later I went to a local market to buy some ingredients for a dinner. Cooked the dinner in the kitchen at Frency Hotels, the place where I stay at. Rice, with egg, garlic and chili. Got some help in the kitchen from a philippine guy named Japs.
So I ate my dinner and drank some philippine beer with Japs, it was nice!
After the dinner I went to the internet café where I´m at now. Thought I should write a new post here for day 2, but suddenly I started to feel not very good… Went back home to Frency and straight to bed. Didn't take long before I felt even worse and I ended up vomiting and of course got diarrhea on top of that. Went a few turns back and forth the bed and toilet until I finally fell asleep, probably with some fever. Got up at 14 pm today, feeling a bit weak, but things are much better now!
I talked with two other swedish girls that told me that many kitesurfers get sick on Boracay and the reason is apperantly the water in the ocean, not the food that I first suspected. They say it´s so common that you more or less have to count on getting sick at least once here on Boracay. Let's hope this was the first and last time for me.
The wind forecast is bad for the coming days, so I might not be able to kitesurf for some days. But there are more things to do on this Island, so I´m pretty sure that I´ll get along anyway =)
Related External Links