What To Do In Manila Airport?
Well, you can't do jack shit, but eat expensive junk food and watch how the time goes super slowly. I figured that it would be extremely boring to spend my 18 hours in Manila at the airport while I was waiting for my next flight, so I decided to explore the surroundings a little bit. They have a storage room at the airport, so I handed in my 22 kilos bag and started to walk in a random direction towards the town. A friendly cab driver asked me where I was going and then gave me a free ride to a street from where you could see some local shops, a perfect starting point!
I walked straight into something that most white people probably wouldn't even think about going into. Dirty streets, small dark alleys, shabby concrete houses, roosters, dogs, cats, playing kids, curious staring eyes… not the kind of atmosphere where you normally feel comfortable and safe, but it was in the middle of the day, so what could happen? I walked around for about 2 hours and I didn't get robbed, beaten or anything like that, but had a pretty good time!
The first thing I noticed was that they actually had vacant rooms in this little hood. I didn't check in considering that my flight goes so damn early in morning, so I might as well try to find a bench at the airport, it will do good as a bed for a couple of hours. But in case you are travelling on a low budget and look for some place to stay in Manila then there are several options in these hoods. I didn't ask for the price, but I´m pretty sure that it´s not that expensive ;)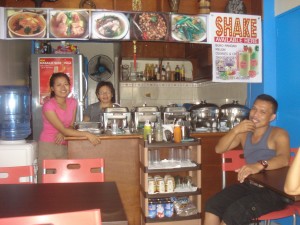 All the walking made me hungry and I was lucky to find a small restaurant that seemed ok and with fair prices. I bought a tuna and cheese sandwich for 15 pesos, with water included. The Philippinos were friendly and had lots of questions. They thought it was a pity that I didn't stay longer in Manila since their 22 years old was single and I was obviously a potential husband.
I continued my sightseeing in the neighborhood and the atmosphere that at first glance seemed to a bit unfriendly turned out to be the opposite and full of vibrancy!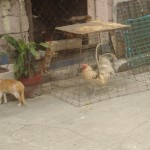 So what are Philippine people up to during the days in Manila? Some are actually working, usually by selling food and all kind of stuff in their small stores. But many seem to just take the day as it comes. Playing bingo was apparently popular here. In absence of unmarked bingo-maps you simply just place macaroons on your numbers. Card players were seen here and there. I was invited to a game, but left quite soon, the "mob" around me was a bit to close, besides I didn't knew the game they were playing. Some dudes were playing basketball and gladly showed off their skills infront of my camera. Some men were sharing a bottle of rum while eating some unidentical things, why not?
Other were just sleeping…
And it´s about time for me to sleep as well! My flight departs in 9 hours, so I´ll see if I can find a comfortable bench somewhere in the airport, not looking forward to this night… over and out!

Related External Links