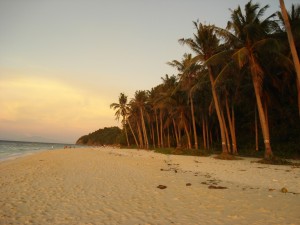 Bulabong and White beach are not the only beaches on Boracay. There is two other beaches, one privat and one that is open for everyone, it´s called Yapak beach. Yapak Beach are located "far" from the centre of Boracay (the length of Boracay is 7 km) where all the tourists are gathering. To get there you either have to walk a few kilometers or take a tricycle for about 100 pesos. I went there today and I can tell you that it´s well worth a visit!
Yapak beach is a calm beach where you don't have to share the sand with hundreds of other people, in fact you almost have the beach pretty much to yourself :)

The water is crystal clear just like on White beach, but it gets deep immediately and there are some strong currents to be aware of. The sand is not as powder fine as the sand on white beach, but instead there are plenty of shells and corals that make the sand more interesting :)
Behind Yapak Beach is a big wall of dense vegetation, but also hundreds of coconuts palms. Two Philippine kids that were walking along the beach decided to make a stop and refill their energy depots, simply by picking some coconuts. But how do you pick them when the coconut palms are 10 meters in height? Well, you climb!
I was learned the technique how to climb in coconut trees, but it was not as easy as it looks like on the video… I manage to get about 2 meters up before I gave up. The key is to climb fast and it helps a lot if you're light, about 30 kg or so is good! Here are some other photos from Yapak beach.
Found a nice gym the other day btw, so if you ever visit Boracay and feel for a tough workout you might consider visiting this highly modern and well equipped gym!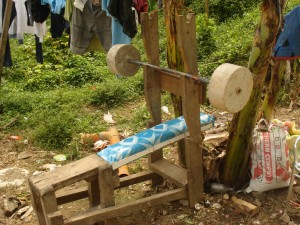 Related External Links