Been sick for the last two days, or at least I caught a cold. But at least it seems to be one of the harmful colds, today is the third day since I caught the cold and I feel more or less recovered. I think it was the air condition that made me sick. Had my bed placed next to the AC and woke up cold a couple of times. Did some reshuffling in my room and turned down the cooling effect on the AC, so hopefully this was the one and only cold that I will get here on Boracay.
So, it´s been some lazy days while I had my cold. Went to a rooster farm with Japs. They had about 100 roosters, but no chickens… so what on earth are they doing with all these roosters? Well, they train them to become figthers! Rooster fighting is popular activity in the Philippines and there are apperantly lots of money to win. Japs told me that the price for a full grown fighter (a 2 years old Rooster) is 5000 pesos, that´s about $120. At this farm they had about 100 roosters.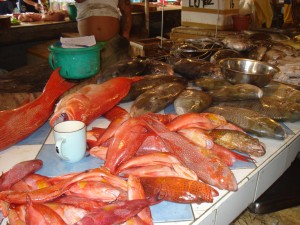 Went to the Talipapa Market (the local market on Boracay). They sell lots of fresh fish there, many different species. Bought some White Marlin this time which were put on the grill later on, damn good! For those that do not know, the White Marlin looks like a small swordfish. It weighs about 120kg and is a super fast swimmer! They can swim 100 meters in 4 seconds, i.e. 56 mph or 90 km/h.
Found a nice little shop where they sell different kinds of cakes and buns. The store was actually called Pans & Buns. Did three visists there in 2 days, so I more or less tried their whole collection by now which includes, coconut bun, banana cake, monggo rolls, peanut rose etc… 1 bun is about 12 cent, so the price is affordable =)
I end this post with some pictures of some colorful kites, c ya!
Related External Links