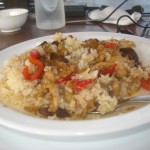 I´m currently sitting in the shadow at Levantin enjoying a Chilli Chicken meal that is so damn good that only this itself is a reason to go back here to Boracay! I usually don't take photos of the food that I eat even if it´s super tasty. The fact that I do it now is a proof that this dish is something extra ordinary!
This is my last week here in Boracay. I hope that my posts on this site will give you a hint of the life here in Boracay. A friend once told me that if you go on a vacation somewhere then you must stay at least a month to get to know the place and to get a feeling about the life there. If you go somewhere for a week or two, then you might get an insight about that place but more on a superficial level. It´s just like you meet new people, it takes some time to really get to know a person. I´ve been here for nearly 7 weeks now and my impression is that Boracay is a cool place to visit if you´re a kitesurfer. There are plenty of other things to do when there is no wind and there are lots of nice chill out places, for instance Levantin where I'm usually hanging around at. But  I would probably go nuts if I didn't have my laptop with me, but maybe that´s just me that is an internet addict =P
However, I would not go back here without my kitesurfing gear and my laptop. The once unexploited and beautiful Island Boracay with it´s perfect white beaches and clear blue water has unfortunately become a place for investors that are looking for new projects that they can make money with. Boracay is not what it was like 10 years ago. The Island is almost like a huge resort now. I think that there already is way to much tourists and buildings on this small Island, they even have traffic jams on the main road at certain times. And there is more people and resorts to come… But there are 7106 other islands in the Philippines, so there some other options if I go back to the Philippines. And if I do then I´ll probably drop by Boracay for kitesurfing session, a Chilli Chicken meal and of course to say hi to my friends at Villa Frency =)
I went to a cockfighting arena with Japs yesterday. The atmosphere in a cockfighting arena is something different. The majority that go to the cockfighting match is men (big surprise). The "box ring" has two corners. One say Meron, the other say Wala. Prior to the fight the cocks are brought to the arena for a little showoff, then the gambling begins. People are betting either on Wala or Meron. When the betting is done the fight starts. The cocks are equipped with sharp knives on their feet, so the fights are usually fatal for one or both fighters and the fights don't last very long, sometimes not much more than 15 seconds.
I did bet on a few matches, but of course I lost in the end. So I left the arena a bit pissed off together with Japs. To get in better mood I went to a hair dresser with Japs that hadn't cut his hair for 1,5 years. We both had a haircut and I think Japs was happy with the result =)
The tide is about to move back now and the wind is ok today, so I´ll soon go for a kite session. The high water makes it very hard to launch and land your kite, since there is no space on the beach. So there are usually not so many kitesurfers in the water around lunch time here. The surfers that go back on land when the water is high will experience some difficulties with the landing… The video below shows what can happen =)
Laters!
Related External Links