Kite surfing in Boracay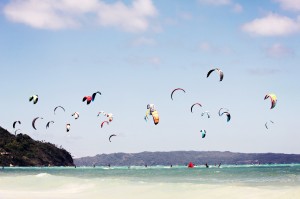 Boracay, a small tropical island of Philippines, in recent years has been famous for its beaches and home for kite surfing lovers. The white sunny beaches, and the warm temperature whole year makes the day and night life as one of the most happening places and this is what Boracay is special. The country of Philippines is ranked first for getting registered in Kite surfing and that became the best place in Asia. Trainers of IKO and VBWS teach the beginners. Boracay Island is situated away from the mainland and so less crowded compared to the other beaches. Bulabog is a Beach where Kite surfing takes place. The kiters also have their own secluded section for kite surfing. Another beach for good kite surfing is situated to the north known as the White Beach or Diniwid. In total, the island of Boracay has 12 beaches. The kite surfing practiced on these beaches have mainly five different types of courses. Each course is being taught by the IKO instructor to the beginners and generally each instructor will have maximum two students each at a time. Every student is given proper attention so that they can learn the safety procedures of flying and also gather experience through their performance. The equipments which will be needed for the beginners to learn kite surfing are – Cabrinha, F-One, Slingshot Kites, Naish Kites, Nobile Kite boards, Prolimit and many other brands. In fact you can pretty much learn kitesurfing or hire equipment with any of the major brands on the kitesurfing market.
The different types of courses that the students learn here will have an international license that will be equivalent to the IKO level certificate provided around the world. The different courses trained here are namely –
Discovery Course – It's the introductory course for the beginners or for those people who wants to learn and then find out whether they can do kite surfing or not. It's a course for only 2 hours.
Day Course Level 1 IKO – This is the first step one course for beginners. They start learning with the IKO instructor's help. In this step, they are trained about the set up of the kite, turbulences, bar and lines, safety system, fly a 4 line kite, power zone and wind-window theory. At the end of this level the beginners learn to use the kite in the power zone. This course is of 4 hours duration.
Beginner Course Level 1+2 IKO (IKO Certificate) – In this course one gets trained to become an independent kiter. The instructor also helps them during this training. After a 12 hours/ 3days of session one gets good control over kite surf. Another part of the learning in this session is to get on the board and riding oneself.
Advanced Course Level 3 (IKO Certificate) – Session of 5 hours/1 or 2 days. Here learner already knows how to ride a kite. He learns from the professional instructors how to turn, ride upwind, and do their jumps.
Private Tuition – A course of 1 hour. Someone will be there who will recommend and answer your questions. Select of right spot for kite surfing and right material. It depends on direction of wind, shallow water and strength. There always be someone for launching and landing. Anyone lost then instructor will help and pick them up.