Ever heard about Rapace? Or have you ever seen a Rapace kite? No?, Well, the probability is quite small since Rapace just recently entered the kite manufacturing market. Currently they only have resellers in Canada, France, Italy, Slovenia and the Netherlands. They are actually looking for resellers, so if you want to sell kites, now is your chance!
Rapace produce kites both for snowkiting and kitesurfing. They also produce boards, harnesses, so Rapace pretty much cover the whole spectra. However, their range of products is still small, but I assume that it will grow larger with time.
The one and only kitesurfing kite that is for sale on the market is the Rapace RW1. It's a 9m hybride kite. Let's take a deeper look into it. Note that this information is taken right from the Rapace official site (www.rapace-kiteboarding.fr), so the drawbacks with this kite, if any… are of course not stated ;)
The RW1 is easy to use. No oddities or special features, therefor suitable for beginners.
It comes with a one pump system so you don't have to worry about being the last one that enters the water.
The RW1 is very stable, yet lively and responsive.
The shape of the RW1 allows for a huge lift for those who love long flights when attached to the harness.
The large depower allows you to ride in a wide wind range.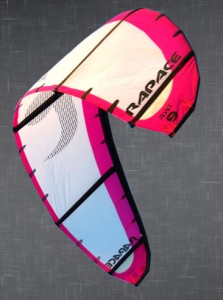 Technical details:
* One pump
* Bar with double stoppers
* Security system + trim piece
* Reinforced fabric on LE and struts
* 25 meter lines
* Non-return ball in the valve on the leading edge
* Quick and easy trim over the bar
* Teijin fabrics
* Reinforcements struts
Shape:
* Hybrid
* 5 struts
* 4 lines
* double pullies
* Freestyle/freeride
Nothing new really. All kites manufactured today are more or less constructed in the same way with one pump, teijin fabrics, reinforcements etc…
However, what I find interesting with this kite is the price! You can buy this Rapace RW1 kite for as low as $815 or 650 € including bar, pump, bag! The url to the online shop is www.rapace-shop.fr
Finally, here is a video that shows that it's fully possible to perform well with this kite in the water!