Brazil is great destination for kite surfing vacation. Wind every day at season wide sandy beaches warm weather , good facilities and pleasant atmosphere. Except the super reliable wind, the main attraction of kiboarding in Brazil is the batter flat lagoons and the great downwinders.
Brazil is suitable for everybody: beginners can learn to kite in the lagoons and pro's can enjoy the endless hours of kitesurfing in best conditions. Families that enjoy (windy) beach life will be happy here, and girls alone will feel great.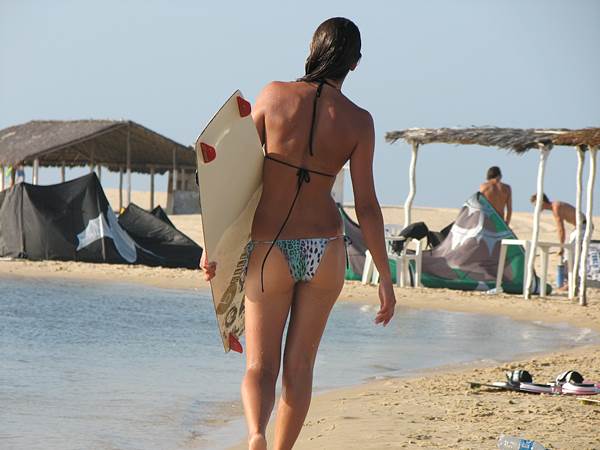 Kite lagoon at north Brazil
There are many shallow rivers in the kite area in north Brazil, creating a lot of lagoons. The Lagoons near the beach, get the wind from the sea, creating paradise condition for free style kite boarding. The most famous kite lagoon is Cauipe lagoon in Cumbuco. Great place to kiteboard and chill out while watching local and pro's puling some tricks. You can get to the lagoon by fun 1 hour down trip from the village, and get back with one of the buggy's available here all day.
Cauipe lagoon, Cumbuco Brazil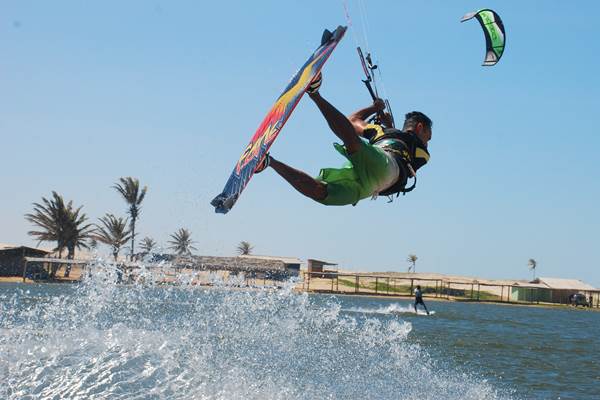 Photo by @Hilla Ost
Other great lagoons are the huge tidal lagoon in Ilha do Guajiru , and the huge sea lagoon in Barra Grande. Many smaller lagoons can be found along the kite beach, most are reachable by buggy ride or downwind kitesurfing.
Ilha do Guajiru kite  lagoon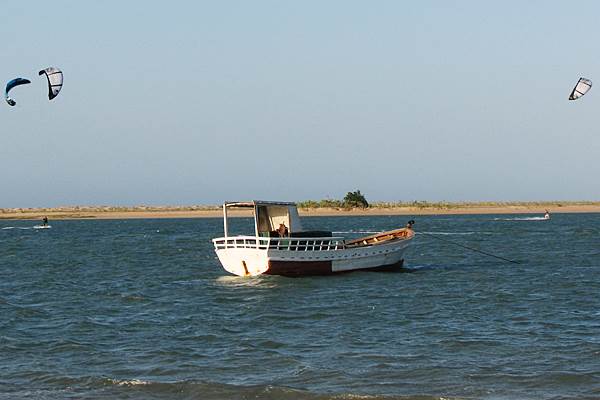 Downwind kite trips at north Brazil
The kite area in north Brazil has hundred miles of wide sandy beaches habitat with mainly small fisherman villages. That plus the fact that winds blows constantly from side ti side-onshore direction, allows you to kite downwind along the beach for days.  The best way is to have a buggy or a pickup escorting you on the beach. Buggy's and pickups are not cheap in Brazil, so If you are young and restless, you can kite to the next village, and come back by bus. Just don't forget your flip-lops.
Refreshing moment in Taiba Paracuru downwind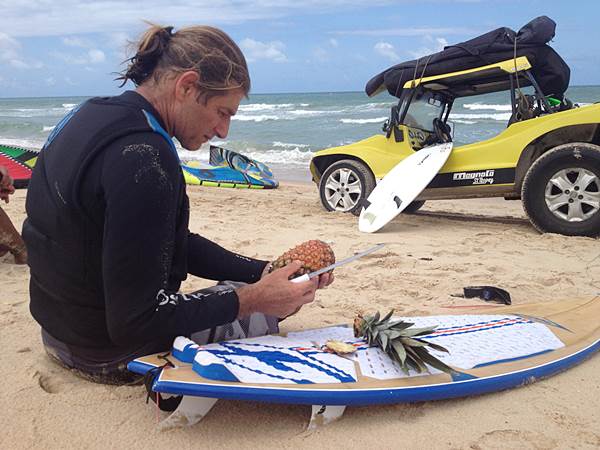 There are many great small downwinds of 10-20km that you can do daily. The most popular is the 6-8km downwind from Cumbuco to Cauipe lagoon, no transport is needed, just go and take a buggy back at the lagoon. Taiba to Paracuru is amazing downwinds for kitesurfing wave. And you can go for the big downwind (250km)  from Cumbuco to Jericoacoara, or even bigger until Barra Grande, sleeping each night at a different village. You can join an organized doanwind, or organize one yourself.
Family kite trip to Brazil
Kids are very welcome in Brazil at any age, people there are very tolerant towards children and very fond of them. Beach hotels, usually have a wind sheltered area by the pool, so even baby's can enjoy here.
Teenagers can learn how to kite, enjoy buggy rides and horse riding. Kids can surf wave , swim in the lagoons and play football with the locals. Food here is simple and suitable for children. Lots of fruits, grilled meat, rice, french fries and pasta can be found everywhere.
Kite kiteboard at Cauipe Lagoon Cumbuco
Families, can stay at beach hotels, or rent a villa or apartment. If you stay some time in Cumbuco or Jericoacoara, you can arrange yourself a verity of activities. You can arrange Portuguese lessons, and daily Capoeira classes for your family at your hotel. Recommended kite villages for families are Cumbuco, Guajiru and Jericoacoara.
Kite beach hotel Cumbuco Brazil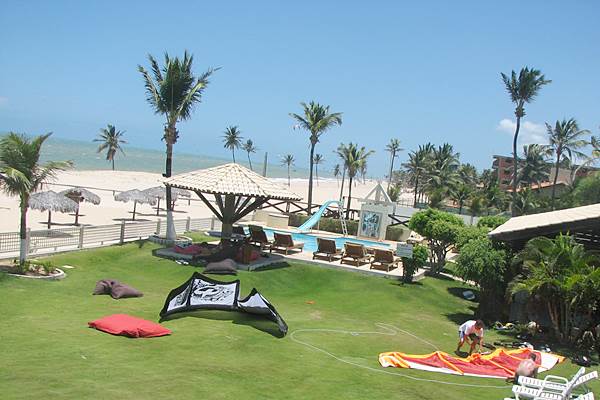 More information on your next kite trip
All the information about kitesurfing at north Brazil can be found in Go-kite.com – kitesurf traveler guide to Brazil and other spots world wide. How to get to kite spost, where to stay, kite conditions, kite lessons and more.
     The author
     Naomi Fridman