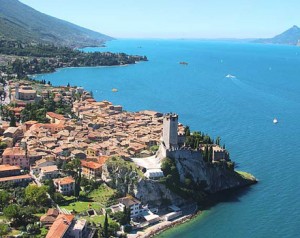 The Lake Garda by Beekite
The lake of Garda is famous all over the world for it´s great variety, breathtaking nature, huge choice of  sports to practice, amazing villages in the tipical tuscan style as well as fot the multitude of gastronomic varieties.
There are many types of water sports you can practice on the Garda Lake. Thanks to it´s wind certainty the lake is a popular destination for Windsurfers and in the meantime also for Kitesurfers.
The Spot by Beekite
Our Kiteschool "BeeKite" is located in Castelletto di Brenzone directly on the sea. The kite gets started directly by the boat in the middle of the lake. That´s why there is no risk to hurt anyhow on the beach. We drive you then to where there are the best wind conditions and where you have enough space. Our training area is 15 km long and 4 km large.
The Wind by Beekite
There are two main winds on the Garda Lake. The "Peler" and the "Ora". The "Peler" comes from the north and begins already soon in the morning by 6 am o´clock. It can be gusty and and achieve up to 30 knots. Around 11 am the "Peler" eases off  and the "Ora" comes up. So the best time to be on the water is from 2 pm to 6 pm. The "Ora" offers perfect conditions for beginners as it´s a quite stabil wind and achieves around 16 knots.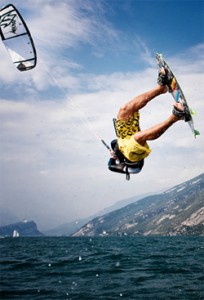 Description of the classes by Beekite
Every participant gets teached individually and in order to his level. The classes adhere to the guidelines of the VDWS and IKO. After long year experience we use the different teaching-systems well directed. As there is no "standing area" it is much easier for beginners who want to learn this type of sport. You can see that already at the first flying exercises. Faults like tighten the "Bar" and flying the power-area are not a problem thanks to the deep water and the huge space we have available. Due to that we can save up until 3 hours of time,  besides there is no running back in case of loss of height until 15 km because we drive you back by boat.