Two days more to go before I leave Boracay. The last few days have literally been painful… My scalp has been itchy for several days, it´s extremely annoying. It has at least not been getting worse, but not better either. It´s very tempting to scratch the scalp, but I suppose it only will make things worse. I guess it´s about time to visit a pharmacy and get some kind of cure :P
However, the itchy scalp is not the worst issue right now, but an infected insect bite. I got bitten by something a couple of days ago, right above my right knee. I scratched a little on this bite and apparently managed to make it infected. The infection gradually got worse from day to day until yesterday when I staggered away to a clinic. And yes, I staggered. The infection hurts so much that I barely can walk. Anyway, the doctor gave me an injection of antihistamin, a tube with hydrocortison and some tablets with antihistamin.
The antihistamin makes you very tired and drowsy, so I slept for several hours in the afternoon. I actually had a good night of sleep the last night as well, even though I slept on my back, unable to move without feeling the pain in the infected area. Probably thanks to the antihistamin, nothing bad without anything good :)
In case anyone is interested in seeing what the infection looks like, here is a picture.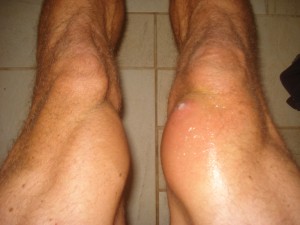 The white stuff you see is the cortison, applied right on the bite.
So, even though it´s windy today, I can't go kitesurfing. I better do as little as possible. So you might think that all is just shit, but it´s not! The fact that I´m flying home soon is nice =) And I´m spoiling myself a little extra these last days with some awesome meals =P
I´ve got a bit tired of grilled tuna, so I tried something different the other day, Kare Karé! The chef that tought me to make Chilli Chicken made this dish for me. I just bought the ingredients at the market, handed them over to the chef (his name is Alan btw) and was served this super meal!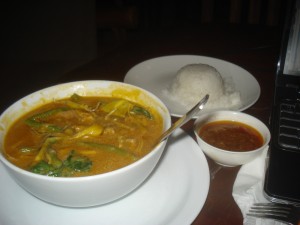 Talking about flying. A bird at Villa Frency had a nest in a small tree. This bird was brooding three eggs that were hatched one day. I followed the rapid growth of the chickens. They went from blind newborn chicks to flying feather balls in just about one week!
It´s about lunch time here now, so I´m heading to Levantin for another Chilli Chicken. My knee actually feels a little bit better, perhaps can I walk normally soon!
Related External Links