Had another kick-ass meal this evening. The dish I ate is called Bicol Express (also spelled Beacol Express). A simple, yet very tasty and popular Philippine dish
You only need a handful of different ingredients, namely:
Pork
Chili
Red onion
Garlic
Black Pepper
Bagoong Alaman (shrimp paste)
Coconut milk
Salt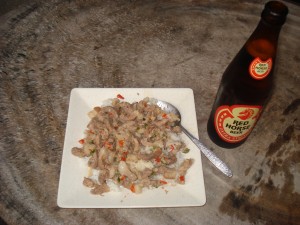 You pretty much just fry all ingredients except the coconut milk which you add after the other ingredients are fried a bit, then just stir it all for a couple of minutes. You can google for it and find many slightly different recipes for this delicious dish!
They have another dish here in the Philippines which I havn't dared to try yet. It´s called "Dinuguan" and it's made from a  pig's intestines, snout and ears in cooked pig's blood. I´ll try it before I leave the Philippines, I promise!
The weather here has been quite shitty lately, so no kiteboarding for me. Will probably have to wait till thursday before I take another kite session. Last time I was out in the water I stepped on a sea urchin which was quite unpleasant… As you may know there are hundreds of different sea urchins. Luckily those that gaze in the water of Boracay are harmful. Still I got about 20 spines in my foot, that wasn't to easy to get out. Here in the Philippines the treatment against sea urchin spines is human urine and/or vinegar. I was actually told by a few different Philippinos that I should pee on my own foot. However, boiled vinegar that you add on the spines with a cotton swab works just as good. I tried the vinegar method which seemed to help a bit, but the spines were still in my foot… so I ended up buying a needle for 1 pesos, with which I could remove the spines. My foot is now fine =)
Related External Links