Is it necessary to take a kitesurfing course?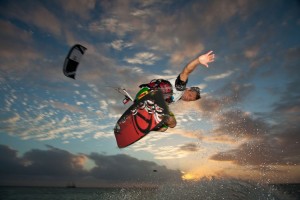 In my opinion the answer is, without doubt, YES! Kitesurfing is known as a hazardous extreme sport, which is both true and false. In the end it all comes down to in what way you decide to surf. One can stick to kitesurfing in safe conditions and in a safe way. What I mean by this is that if you only go out with your kite in light wind conditions and if you are happy with just cruising back and forth, then you don't have anything to worry about. The power generated by the kite depends on the size and the wind speed. Double the size of the kite and you get twice the power. Double the wind speed and you can multiply the power by four. In other words, as long as you're not overpowered you´re most probably fine even if you crash.
Safety equipment will also greatly improve your safety. Use of a helmet and an impact west while surfing in light wind is like driving your car 30 mph with seatbelt and airbags. You really have to be unlucky to get injured in these conditions.
So why are we told that kitesurfing is hazardous?
Kitesurfing invite the majority of all surfers to keep pushing their limits. You end up riding overpowered faster and faster, jumping higher and higher. It's fun and also a great feeling to jump so it's natural that we push the limits. But as you get more experienced you also learn to handle speed and power which in turn makes you a safer rider. So the fact that the water is filled with crazy kitesurfers can't really be applied to number of injuries.
So when are people getting injured?
Some accidents happen when advanced riders are making tricks and skimp on safety. We all know that only geeks were helmets and it´s cool to show of your tricks near the beach in shallow water. Sometimes certain riders have to pay for this style with broken ankles and wrists and dislocated knees.
However the worst accidents are those on land… crashing in the water is one thing. The water damp your landing pretty good even in shallow water. But crashing straight down to the ground can fuck you up quite bad, you can even die if you're unlucky and hit a stone, tree, building etc.
Many of the accidents on land happen due to carelessness and insufficient knowledge about safe kitesurfing, things that you learn when you take a course…
How can I avoid getting injured?
If you read everything above this line you probably understand that I advise everyone to take a kitesurfing course. You might have a buddy that can teach you, but that is not recommended. Imagine step into a gym for the first time in your life. Would you prefer to get a lesson in weight lifting from an instructor rather than having your friend telling you some "good tips"? Your buddy might be a good kitesurfer, but will most likely teach you how to kitesurf in a way that reflects his own experiences with kitesurfing. There is a good chance that he doesn't point out the importance of how to use the safety system or show you how to launch and land in an inappropiate way or why you should avoid launching and landing behind sand dunes, hills, infront of obstacles etc.
For some good information on kitesurfing rules, equipment, hand signals, wind window eth. check out Gusty. Click on the links next to the girl.
This page also has some great information about kitesurfing kurs. It's in swedish, but hey we all know how to use google translate, right? :)
Related External Links