Cape Verde is quickly becoming synonymous with the term Kite Surfing. It is a hidden jewel in the middle of a vast ocean. Having lived on the island of Sal for 6 years I can confidently attest to its greatness as a kite destination. Where else in the world can you arrive at an airport and travel only 20 min to your hotel and then only another 10 min to one of 4 kite spots. Not many by my reckoning. I learned to kite surf here and will freely admit that it was challenging. There is no lagoon, no shallow water and nowhere that is always completely flat. However, by the time I was up and riding I felt confident that I could kite surf anywhere in the world. Once I was up, I worried that I would soon become bored and have to find a new challenge. However 6 years down the road, the opportunities for challenge are boundless.
Sal has 4 main kite locations all within a 10-20 min range. Each spot offers something completely different.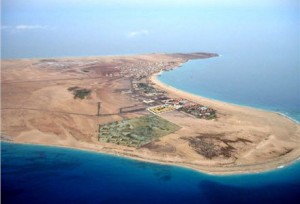 There is the Bay Santa Maria. Here the wind is often side off (though it can change to off, on, or side) and fairly flat. It is a great place for long runs. There are no rocks, no reefs, but you may bump into a turtle, some dolphins and on occasion even a whale. Further up the Bay is Lembje beach. To enter here is a little difficult as there are some rocks. However once you are out, it is great sailing. The inside of the Bay is flat, whereas the outside often offers a lovely swell. When the waves do come in here, they are some of the nicest on the island.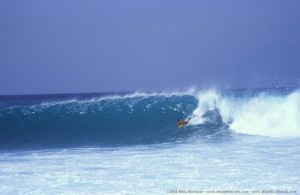 On the west coast there is the beach in front of the Riu hotel. Here the wind is more off shore and is brilliant for speed sailing and free style. It is also 500 meters from the world famous wave spot Punta Preta. Punta Preta, when it is working, offers an orchestra of both large and powerful waves. The wave can reach up to 6 meters high, with a beach break to match. Across the island from this spot on the east coast is Kite Beach. Kite beach has a reef, on shore winds, and waves for those yearning to jump and play in waves without fear. To top it all off, we have yet to reach the point of saturation. There is space to play, space to ride, space to jump. When you are not on the water, the Island is governed by the local motto of NO STRESS. Cape Verdians are friendly and easy to spend time with. There is little to no rain and there is more than enough sun to satisfy those accompanying the obsessed kiter.
There are no major tourist sites, which makes for a stress-guilt free holiday of either lying in the sun or being out on the water.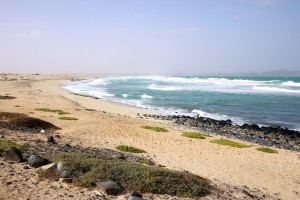 There are a number of schools on the island offering lessons and rentals for both kite and windsurfing. I would recommend Surf Zone, which has a school in the Bay of Santa Maria and on the west coast in front of the Riu hotel. It is the only school that offers only private and semi private lessons to ensure both safety and quality lessons. For more information on the island, kite spots etc, visit their site www.surfcaboverde.com , which offers a large amount of information. For me, having traveled and lived in a number of countries, this is as good as it gets.
/ Sheena
Related External Links