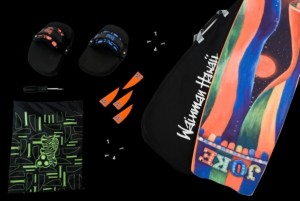 Anyone who has been kitesurfing for some time, is probably familiar with the name Wainman. Lou Wainman was one of the pioneers of kite surfing and has promoted the development of complicated tricks. You will probably find some ambitious kiters, who in 2005 told us that Lou Wainman should not be modeled. The man was just a cool type, although usually somehow trapped in his own world. Quite common for well known companies today are that their founders are a bit crazy and "odd", Lou Wainman is not an exception.Wainman recently sent me a package with the "Joke" board. First, it should be noted that included in the package was a board bag and a bag for the straps and pads were there even was a screwdriver for the assembly, as if the customer is clearly in focus and is so caring for him. After a quick installation of the soft-grip pads and straps then it was time for Joke to convince me on the water.
Striking is the high bending of the Joke. It quickly becomes clear that the Joke is designed also for fixed bindings and to manage lots of tension. Moreover, on the bottom of board are small channels that allow you to get along entirely without fins, thus Joke should be perfect an ideal toy for the slider and obstacles. Due to the high bending it takes a little more pressure on the board to specify and manage to point out the direction you´re going in. But once the joke is on the plane, that´s when he shows his potential. It has very high returning force, allowing the surfer to take height, especially during unhooked jumps. After landings in hooked jumps only a short adjustment period is needed to find the edge and quickly get the balance in the water. Super tight corners can be taken with the Joke and it is a true friend when it comes to carving. Riding toeside or blind is a pleasure, and the board is easy to rotate back on the surface.
Conclusion: The Joke is clearly aimed to the dedicated riders who want to be able to shoot themself up from the water with power when riding unhooked. For hooked jumps, it also offers good performance. The soft pads come to great use when landing, acting as shock absorbers that save your knees. The Joke is the perfect board for whoever who wants to be on the road even with boots and wants to rock out one or another obstacle. For beginners, the Joke is not recommended, the planing is not optimal and a bit more wind is required for riding upwind.
Related External Links