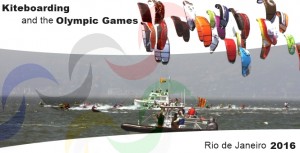 Every Olympics has some new sports. Windsurfing has been banned from
the 2016 Olympics in Rio de Janeiro and replaced by Kiteboarding, the
International Sailing Federation(ISAF) has announced at its mid-year
meeting in Stresa, Italy. It has been accepted by the ISAF after a 19/17
vote and it has been made for both men and women.
The decision today will change the lives of thousands of Kiteboarders that now can live their Olympics dream.The National Sailing Associations will now include Kiteboarding into their programs and coach and support the riders to
go to the Olympics qualification events. We never thought we would get
this far insuch a short time
, said Markus Schwendtner, IKA Executive Secretary.
Germany's Kristin Boese, a nine-time world kiteboarding champion, led the
celebrations. She wrote on her Facebook page:
KITEBOARDING IS FREAKING IN!!!! RIO OLYMPICS 2016 HERE WE COME!!!! Oh my gosh… we can not believe it yet… so much amazing work the IKA has done over the past 2.5 years… thanks so much for everyone that has supported us along the way!!!
So hope see you as a Kitesurfer in 2016 Olympics!