Japs has been eagerly talking about some Philippine dish that you make out of the so called banana heart, you know the red big heart shaped thing that hangs at the bottom of a bunch of bananas, so I bought a banana heart today. I thought you were suppose to eat the thing like a banana, but it turned out that you had to add some ingredients to make the final result, a banana heart salad!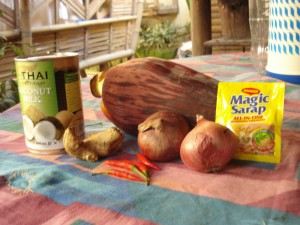 Fortunately a lady, Trinidad (or something like that) that works at Frency likes to cook, so I just had to buy the remanining ingredients for the salad, chili, ginger, red onion, coconut milk and "magic sarap", handy for me! Besides Trinidad actually worked as a cook for 10 years, so when it comes to cooking philippine food I´m probably better of leaving it to her!
Here is Trinidad in action!
You might wonder what all the dried small fishes are doing there on a plate. Japs served me a quite disgusting ensure yesterday that you make of those fishes but when they are in fresh condition. The fishes are put in some kind of sour liquid to rotten for some months then you eat it with chili and philippine lime and green mango. Japs says that it's delicious, I say it's barely eatable… Btw, it´s called Ginamo.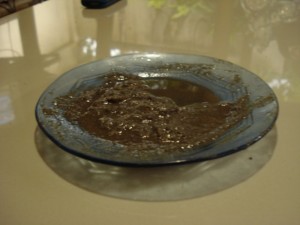 The banana heart salad was not to bad though! A bit similar to the spicy papaya salad that you get in Thailand. Was a nice meal and now I´m full! Japs tough me what to say when the barkers will try to invite me to their restaurants tonight, "mosog ako salamat!" It means "no thanks, I´m full". I´m actually suppose to join a dinner with some other guys in 40 minutes, but I guess that I can stick to beer, or perhaps just ask for Ginamo, I´m pretty sure they don't serve it in the restaurants =)
My dear sister requested more photos, here are a bunch from the viewpoint on Boracay.
More to come! =)
Related External Links