For those living in Scandinavia and other cold places kitesurfing is a seasonal activity. Kitesurfing is great, but even the most addicted surfers prefer to put their gear in the basement when the temperature drops below 5 degrees. A thick wetsuit, hood, gloves, boots, socks and a double layer of thermal underwear do help, but it´s still freezing cold and it doesn't take long before you have to break your session due to the cold. The wetsuit manufacturers have noticed this problem and developed heater vests so that we can extend the season with a few weeks. Today there are two popular heater vests on the market, one from Rip Curl and one from ProLimit. Rip Curl also have a full heated wetsuit. Let's take a look at them!
Prolimit Heater Vest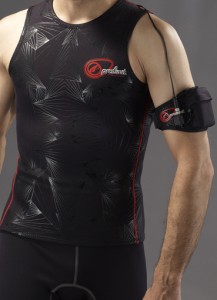 Prolimits heater vest has a square in the lower back where the heating coils are placed. In other words, it´s not the whole vest that is heated up, but the heating coil is strategically placed in the lower back to heat up the most important organs, the kidneys. The kidneys are the organs that have the highest blood in the whole body, so by heating up the kidneys we in turn pump out warm blood throughout the whole body.
Some other features with ProLimits heater vest is:
• Electronic temperature settings, 100%, 80%, 50% and 30% power settings
• Provides up to 2 hours of heat on 100% power
• Full recharge in 4 hours
• All wetsuits from ProLimit are "Heater Vest Ready", which means that there is a little hole on the left shoulder, so the cable from the battery pack can go through this hole. But there is also a convertion tool set that comes with the heater vest so wetsuits of any brand can be adapted to ProLimits heater vest.
Drawbacks with ProLimits heater vest is the price, approx $399.
Rip Curl H Bomb Wetsuit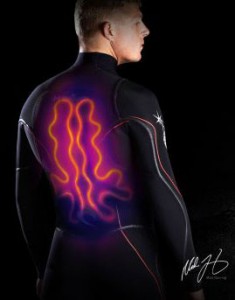 Rip Curl developed their H Bomb wetsuit during three years. Either they were extremely unefficient or the wetsuit must be the shit! The heating elements made in carbon fiber for maximum extensibility and they are placed in the back to heat and protect the core of the body, the spine and all the nearby internal organs.
When our body is faced to cold the body restricts its blood flow to the brain and to our internal vital organs. The result of this is that our extremites such as fingers and toes get a decreased blood flow and that´s when we feel the cold.
Two Lithium-ion 7.4 volts batteries are placed in the lower body in the wetsuit to provide the heating cores with power. The internal organs get warm and our body do not need to limit its heating to these organs but can deliver heat to our extremites as well.
Fully charged batteries gives 3 hours of heat which pretty much equals a three hour long session in cold conditions.  Without the H Bomb wetsuit you'ld probably be dead by then.
Price: $1000
Rip Curl H Bomb Heater Vest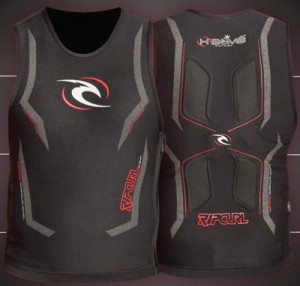 The main difference to Rip Curls heater vest compared to ProLimits and other competitors heater vests is that their carbon fiber heating system covers an area more than 4 times bigger than competitors heating area.
Rip Curls Heater Vest is made in 0.3 mm E3 Neoprene material, the lightest, most flexible and warmest neopren ever.
The battery pack can be charged in 3 hours and produce heat for 1.5 hours at 100%.The power can be adjusted with a vibration controlled switch with built in LED light.
The battery pack can be placed in a small pocket on the side of the vest so you don't have this pack on your upper arm as you have with ProLimit.
Rip Curls also claims that their components are marine grade waterproof. Stainless steal, military standard seals, gold plated pin connectors and non-corrosive carbon fibres. Materials that are dedicated to in-water use.
The price is: $299
The infra red picture below shows  Rip Curls H Bomb Heater Vest and a competitor's vest. Keep in mind that this picture is taken by Rip Curl and they have probably taken one of the worst heater vests that they could find on the market to make their own vest appear to be by far the best.

Anyway, I hope that this little article may help you to decide which heating system to go for. Have a nice winter!